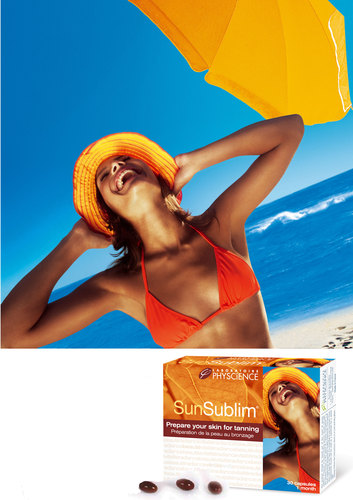 Despite the risks associated with excessive sun bathing many of us still strive for a natural golden tan and will spend hours in the sun trying to achieve it. The makers of the Sublim vitamin range have specially formulated a unique new product to help get a natural golden tan whilst spending less time in the sun;.

SunSublim supplements from Laboratoires Physcience, of Paris, contain a nutritious blend of vitamins and wonder oils that prime your skin and work alongside the sun's natural tanning rays to encourage a deep, natural looking tan but with SunSublim you don't need to spend as much time in the sun for a great looking tan!

98% of people who tested SunSublim confirmed that they developed a deeper, darker tan than usual even though they spent less time in the sun while taking SunSublim!*

Sunshine can be good for you, in moderation; it is recommended we get 10-20 minutes of sunlight a day to boost our vitamin D levels. It is...
Read full release