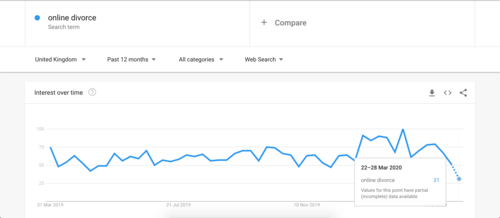 A surprising effect of the Government social distancing lockdown, is the crash in new divorce cases according to a leading online divorce service.

There has been 30% drop in new cases since Boris Johnson announced the first measures on Thursday 19th March.

Calls, livechat and email enquiries have dropped by a similar amount.

The data is backed up by Google Trends which measures search queries on the search engine over time and we can see this in their numbers for keywords used by divorcing couples from 14th March.
• Divorce
• Divorce Online
• Online divorce
• Decree Absolute
• Divorce Papers

This Trends graph for the Keyword online divorce shows the dramatic fall in searches since 19th March.


...
Read full release