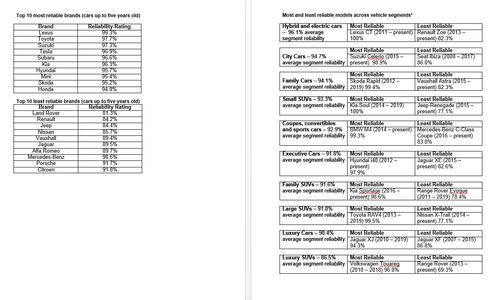 ● Annual What Car? Reliability Survey reveals two of the three most dependable models are hybrid cars, based on feedback from more than 18,000 owners
● Kia Soul, Lexus CT Hybrid and Toyota Yaris Hybrid the most reliable models with perfect 100% reliability ratings
● Overall hybrid and electric models are the most dependable car class
● Reliability Survey results revealed during the busy September plate-change
● To read the full 2019 What Car? Reliability Survey, and find out how well your vehicle did, visit: https://tinyurl.com/y6o39jhn

Britain's most and least reliable new and used cars have been revealed, with hybrid models among the most dependable and Land Rover and Renault owners found to have the least reliable cars.

The 2019 Reliability Survey from Britain's...
Read full release