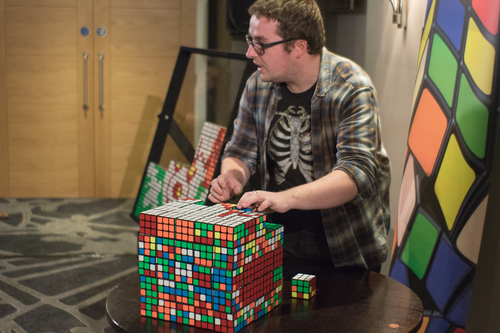 The Rubik's Speedcubing UK Championship took place this weekend in Stevenage, where over 240 competitors took part with the aim of solving the classic puzzle in sub-10 seconds; by using their feet; and even blindfolded.

Rubik's UK distributor and sponsor of the UK Championship, John Adams, invited magician Tom Crosbie to create – live – an impressive Rubik's Cube mosaic. To celebrate the Championships and to mark Halloween, competitors were asked to name their favourite Halloween or Horror character, one of which was then picked at random and Tom performed the mosaic build live at the Championships. Watch the video to see which Halloween/horror character he created AND for a final secret twist...

About the UK Speedcubing Championships:

A new European Record in the 3x3 One Handed was secured by Philipp Weyer (Germany) in 7.77 seconds (single solve) - also the second fastest global time ever recorded. A new National 3x3 One Handed Record...
Read full release