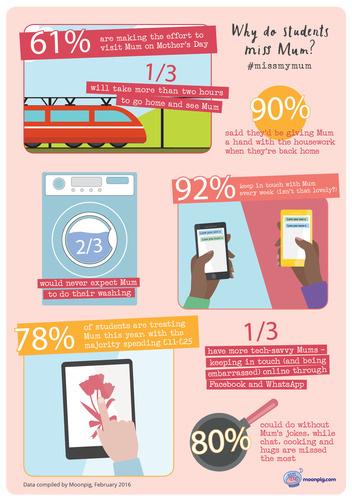 STUDENTS GET DEEP & MEANINGFUL THIS MOTHER'S DAY

• 61% will rush home for their Mums on Mother's Day
• A third of millennials will travel over two hours just to see Mum
• 88% of students will take the time to send Mum a card this year

Millennials get a lot of bad press, often labelled as lazy, entitled and self-absorbed. But as Mother's Day fast approaches, new research from Moonpig.com - the UK's favourite personalised greeting card and gift store - reveals this generation to in fact be a highly thoughtful & sensitive bunch.
In a recent poll of young people aged between 17 – 21, almost all recognised that what their mums really want this Mother's Day is precious time with their offspring. Something that this loving lot intend to give in 2016 – with 61% of those polled planning to make the effort to visit their mums this Mother's Day – two thirds of whom will have to travel for more than one hour to get there, and a third for more...
Read full release