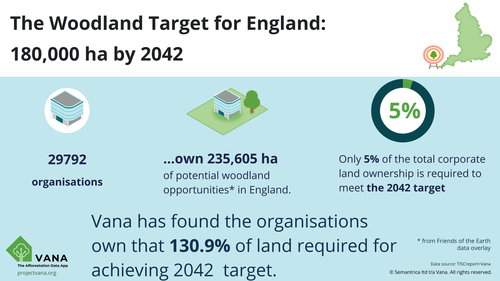 There is not enough available land to hit UK tree-planting targets, NGOs urgently call on Corporate Landowners to get involved to accelerate action

New eco-transparency platform Vana finds the corporate landowners who own 130.9% of potential woodland opportunities land needed to hit England tree-planting targets

The UK[1] has set out ambitious targets to establish forests in areas where there was no previous tree cover. For England, this is 180,000 hectares (336,372 football fields) by 2042. Recently the UK Government has committed to 30,000 hectares per year by the end of this Parliament[2]. But the targets are behind plan[3], as it is proving difficult to access available land. Whilst officials have knowledge of where suitable land is geographically located[4], the challenge is the lack of knowledge of who owns it[5].

However, the game changed when HM Land Registry made their corporate land ownership data[6] for England and Wales...
Read full release