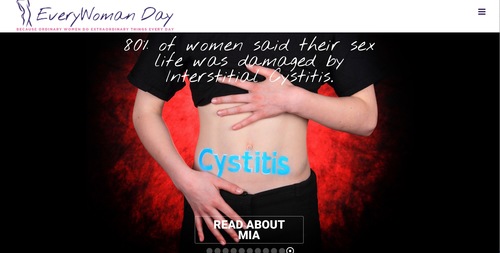 EveryWoman Day is launching this year with a striking photo campaign to raise awareness and funds for poorly understood female health conditions which seriously limit quality of life as well as those which can kill.

It has been created by Purple Orchid, the women's self-care company, in association with the Cystitis and Overactive Bladder Foundation, a charity which supports people with bladder conditions.

The first EveryWoman Day is Friday September 16 – in the middle of of Sexual Health Week, Interstitial Cystitis Awareness Month and Gynaecological Cancer Awareness Month. It's for Every Woman because of all the ordinary women who are doing everyday things with extraordinary strength all the time despite their pain and suffering. And Every Woman can join in, by adding to the website their story and a photo of their belly with a word painted on it which describes their condition or the part of it that bothers them most.

The need to talk...
Read full release