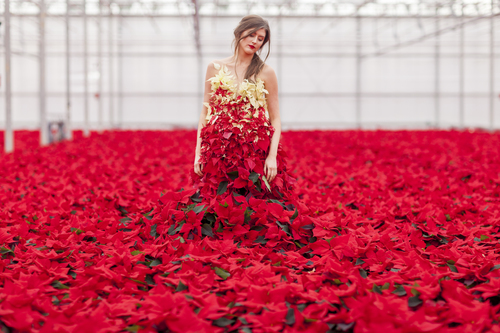 Hi-res images are available to download here.

The traditional Christmas poinsettia has been given the haute couture treatment by floral stylists, Okishima & Simmonds, in celebration of International Poinsettia Day this Saturday, 12 December.

Fashioning the dramatic ombré gown from over 300 freshly cut stems of red, variegated and cream poinsettia and styling it amongst sea of poinsettia plants, Okishima & Simmonds have re-imagined the Christmas classic.

"We love to create unique designs that merge the floral world with the fashion world and International Poinsettia Day has given us an exciting opportunity to do that," says Jessica Simmonds of Okishima & Simmonds, who were commissioned on the project by Stars for Europe, the EU-wide poinsettia campaign. "We wanted the dress to flow so that it looked as though it was...
Read full release