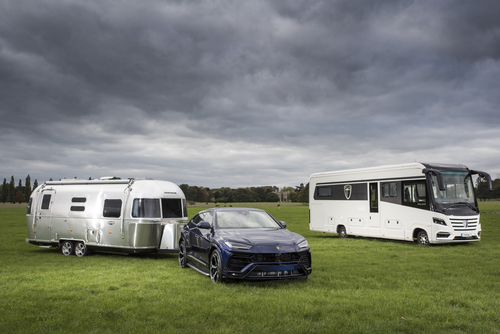 The new-for-2019 Morelo Palace Liner motorhome, which retails for more than £270,000 joins the new Lamborghini Urus towing an Airstream, making their way to Birmingham's NEC for the UK's largest leisure vehicle show from 16 to 21 October.

With more than 1,000 vehicles on show worth a combined value of more than £36.5 million* the Motorhome and Caravan Show 2018 includes all the new 2019 models: motorhomes, tourers, campervans, caravan holiday homes, trailer tents and accessories. Daily launches take place in the LIVE Theatre and celebrities take to the stage for interviews and Q&A's. Architect and TV presenter George Clarke opens the show on Tuesday 16 October and television's Dr Hilary Jones and Dr Dawn Harper praise the mental and physical health benefits of leisure vehicle holidays. Sharron Davies discusses why she loves motorhoming and Bonita Norris gives visitors a recount of her time climbing Mount Everest.

Visitors can enjoy live cooking...
Read full release