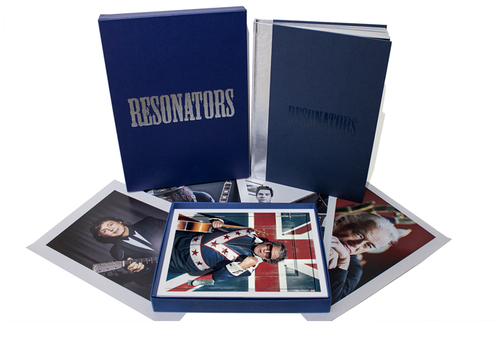 Red Giant Publishing present Scarlet Page's highly anticipated limited edition large format book RESONATORS, providing a unique insight into some of the World's most respected guitarists from '60s Merseybeat through Rock 'n' Roll, Heavy Metal and Punk to Britpop.

'A Resonator is the leading light in their field, someone who defines their time and influences their generation. The Resonators are those who send thousands of people rushing out to pick up guitars for the first time...' – Scarlet Page

Including over 120 exclusive and never before seen photographs taken over the past two years, Scarlet's personal approach and style has produced beautiful and intimate portraits of The Resonators, capturing sides of guitar legends rarely seen by their fans.
Guitarists included within RESONATORS are; Wilko Johnson, Jimmy Page, Brian May, Paul Stanley, Sir Paul McCartney, Peter Green, Joe Walsh, Slash, Nile Rodgers, Mick Jones, Jeff Beck, Paul Weller,...
Read full release