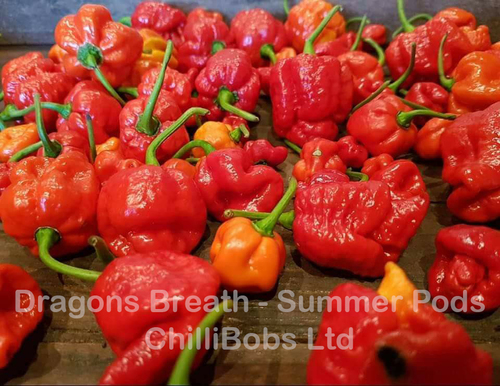 The 'world's hottest chilli' has been unveiled at this year's RHS Chelsea Flower Show. The Dragon's Breath chilli as it is known comes in at 2.4 million Scovilles (SCU), that's 200,000 SCU hotter than the current record holder.

The chilli is the culmination of a joint project involving Tom Smith Plants, NPK Technology and Newark-based chilli grower, ChilliBobs. The Dragon's Breath is being revealed to the world on the Tom Smith Plants stand at the Show and the Guinness World Records have been approached to have it officially verified as the world's hottest chilli.

As the creator, owner and commercial grower of the Dragon's Breath chilli, father and son Bob and Neal Price, harvested it from seed.

Bob said: "We make it a rule to taste every new type of chilli that we grow. As soon as we tried Dragon's Breath we knew it was hot!"

At 2.4m Scovilles, the chilli grown for the Chelsea Flower Show is over 500 times hotter than...
Read full release