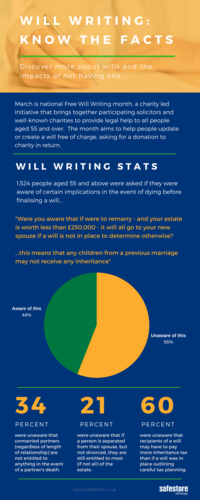 Borehamwood, Hertfordshire - March 13, 2017 - Research carried out by Safestore has revealed that 31% of people aged 55 and over do not have a will and as a result, may be risking inheritance for future generations . Inspired by Free Will Writing month which takes place throughout March, the self storage company discovered that an alarming number of Baby Boomers may be putting their family's inheritance at risk for all the wrong reasons.

Out of 31% of adults aged 55 and over who do not have a will:

- 12% have children in their household
- 16% are separated or divorced
- 48% admit they 'haven't got round' to writing one
- 18% feel that they don't have anything of value to leave behind
- 12% believe that all assets would go to a partner regardless

"Wills are essential life documents which really ought to be in place well before you reach 55. It is concerning that so many 55+ year olds have not taken the time to...
Read full release