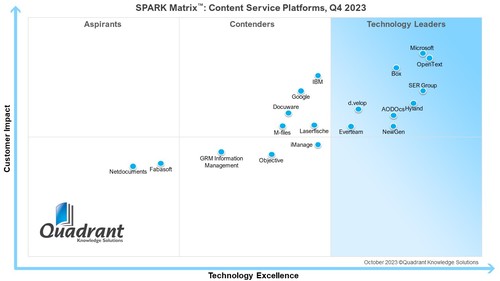 • SER's Doxis Intelligent Content Automation platform positioned among the top three 'Technology Leaders' of the global CSP market

• Report highlights embedded AI and seamless integrations which enable customers to automate repetitive tasks, improve search experiences, and make data-driven decisions

• Recognition as Leader in Spark Matrix ™ for second year running underscores power and breadth of SER's AI-powered Doxis platform

(November 30, 2023 – Bonn, Germany) SER, the world leader in Intelligent Content Automation solutions, is delighted to announce today that it has been named a Leader in the global SPARK Matrix™ Content Service Platform Q4 2023* report. SER is among the top three technology leaders in the 2023 matrix.

"2023 has been an extremely successful year for SER Group – now adding this high praise from Quadrant Knowledge Solutions just reinforces our commitment and excitement for 2024. The report independently...
Read full release