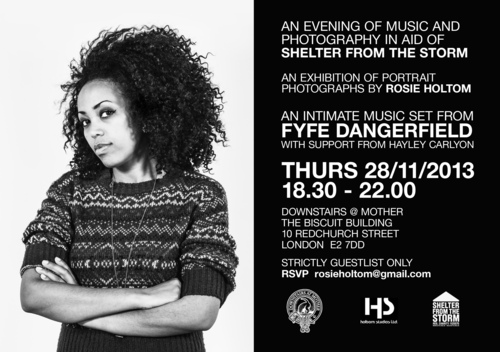 • New photography show explores the reach of homelessness in London.
• Musician Fyfe Dangerfield lends support

On Sunday 24th November, a new photography exhibition will open downstairs at Mother featuring a series of portrait photographs of residents at Shelter from the Storm, a night shelter in North London. The photographs will shock many viewers, as they are the antithesis of the gritty images of rough sleepers with which we are bombarded in the run up to Christmas. They show a diverse group of people, many of them young, bright and beautiful, exploring the reach of the problem in the capital. Many of them have jobs, or are desperately seeking work, and simply cannot afford the capitals rising rent prices.

The photographs are the work of local photographer, Rosie Holtom, who has volunteered at Shelter from the Storm for 4 years. "Working at the shelter completely shattered...
Read full release