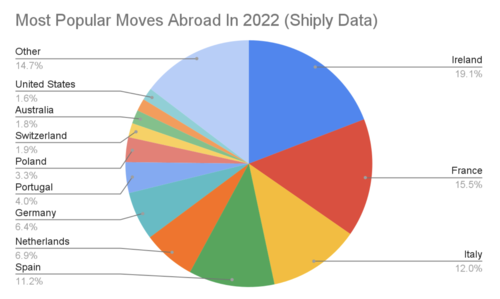 London, 27th January 2023 - Ireland was the most popular destination for expat Brits, accounting for over 19% of all moves overseas, followed by France and Italy, according to the 2022 data from Shiply (http://www.shiply.com/).
With the fallout of Brexit ongoing and the cost of living crisis hitting hard in 2022, Brits have continued to search for a better quality of living abroad. Looking back at their data from 2022, Shiply has identified their most popular destinations for expats - 19% of international moves out of the UK ended up in Ireland, closely followed by France with 16% and then Italy and Spain with 12% and 11% respectively.
Robert Matthams, Shiply's founder, noted that 'France, Italy, and Spain have always been popular destinations for people moving on Shiply, but it is interesting that Ireland leads the way in 2022...
Read full release