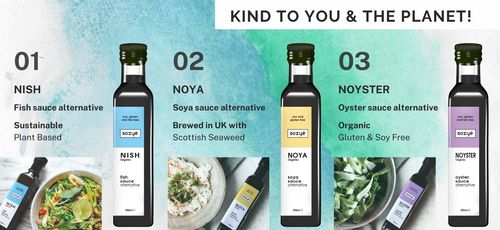 Sozye Limited

London based Sozyë have taken an innovative approach to creating allergen free, soya free, plant based - soya sauce, fish sauce and oyster sauce alternatives.

Vast areas of forest have been destroyed all over the world to cater to the worlds hunger for soya. This mono crop has reduced the ability of the forests to absorb and store carbon dioxide. The sauces use a special sustainably harvested organic certified seaweed from the pristine shores of Scotland instead of soya or seafood. Only the tops of the leaves are collected so that they can regrow within a few weeks.

NISH, NOYA & NOYSTER are brainchildren of Londoner Jacob Thundil MBE, who was on his own journey in trying to find kind and healthy alternatives without compromising on taste. Finding limited options in the market, he used his experience and passion for food and innovation, he took it upon himself to create a range of organic certified, allergen-free,...
Read full release