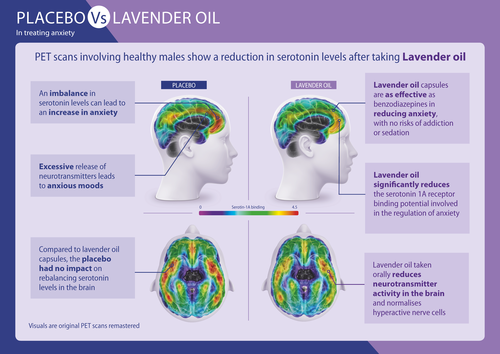 Pharmaceutical quality lavender oil has a significant anxiolytic (anxiety relieving) effect and improves insomnia when taken orally as a daily capsule, new data shows(1).

Disturbed sleep is a prevalent symptom in anxiety disorders and a key diagnosis criterion for subthreshold and generalised anxiety disorders (GAD)(2). It is estimated that more than two thirds of patients with GAD suffer from insomnia(3), with even higher rates amongst the elderly, causing a detrimental effect on patients' daily living skills and quality of life(4). In 80% of patients with diagnosed anxiety disorders, symptoms of insomnia appear simultaneously with anxiety symptoms(5) highlighting the importance of targeting insomnia in the treatment of anxiety.

Pharmacological anxiety treatments such as benzodiazepines carry a sedating effect. Although some patients may see a short-term improvement in sleep, common side effects of benzodiazepine use include daytime drowsiness...
Read full release