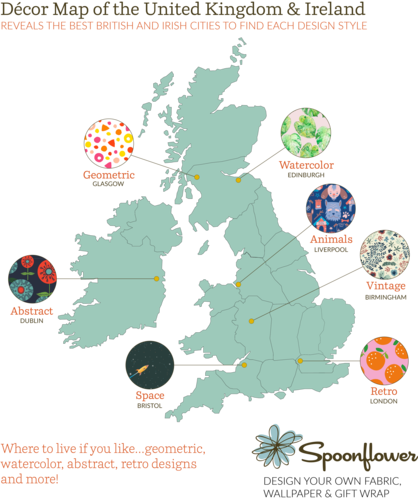 A ground-breaking new "Décor map of the United Kingdom and Ireland" identifies the best cities in the UK and Ireland to live for fans of each of various design styles – from retro to animals and geometric to space.

It reflects data from nearly 200,000 purchases on the website Spoonflower, which lets customers design, print and sell their own fabric, wallpaper and gift-wrap.

"Our decor map for the United Kingdom and Ireland shared interesting insight into the design tastes of British and Irish cities," says Allie Tate, Marketing Manager for Spoonflower's European team.

Spoonflower designates as the "capital" of each design style the city where a higher share of customers than anywhere else have purchased that style.

The findings of its study confirm some expectations, while confounding others. London, for example, is capital of retro designs –...
Read full release