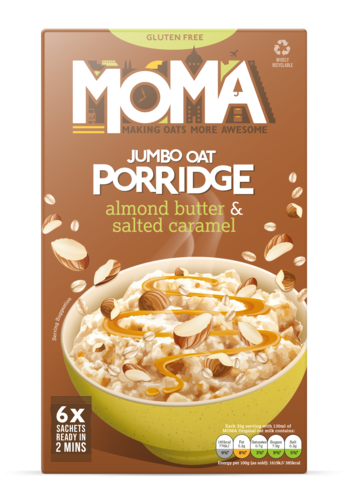 DISCOVER THE MOMA OF ALL VEGAN PORRIDGES
The ONLY way to welcome in those cold, cosy mornings

Celebrate the start of autumn by giving your mornings an oaty upgrade with the unrivalled range of porridges from MOMA. The much-loved British oat brand has five deliciously unique flavours to choose from, each featuring their signature blend of British wholegrain jumbo oats and containing absolutely no added sugar.

The supremely satisfying, vegan-friendly flavours include a naturally sweet Apple, Date & Caramel, a fruity Raspberry, Chia & Pumpkin Seed and a nutty Peanut Butter & Maple Syrup. Plus, there are two gluten-free options too, an awesome Almond Butter & Salted Caramel and the delicious superfood combo, Coconut & Chia. Just add your choice of milk and microwave for two minutes, to create the perfect warming autumnal brekkie. Plus, featuring whole ingredients and with no added sugar or artificial flavourings, each offers a deliciously healthy...
Read full release