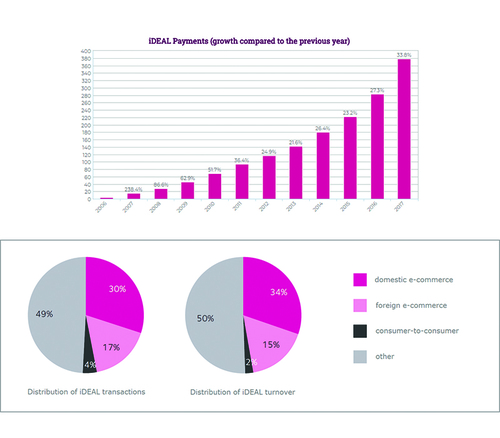 Amsterdam, 30 Mei 2018 /EZPress/ - The iDEAL online payment method performed well in 2017, thanks to the underlying secure standards and uniform rules and regulations. The number of payments with iDEAL has increased considerably more in the past year than in the previous five years, by 33.8 percent, according to the annual report 2017 of Currence, the product and brand owner of iDEAL. Online identification and login with iDIN on websites of companies and institutions, has been used 1 million times. iDIN relies on the same approach and technology as iDEAL.

New applications of iDEAL
In 2017 Dutch bank customers made more than 378 million payments with iDEAL for over 33 billion euros. They increasingly payed in foreign web shops with iDEAL: in over 7000 web shops in 60 foreign countries Dutch customers can now pay with iDEAL. One out of every three iDEAL payments in e-commerce is concluded in a foreign web shop.

"The strong growth in online...
Read full release