GBP 5 million awarded to small business startup, Swoop, by UK's Banking Competition Remedies' Capability and Innovation Fund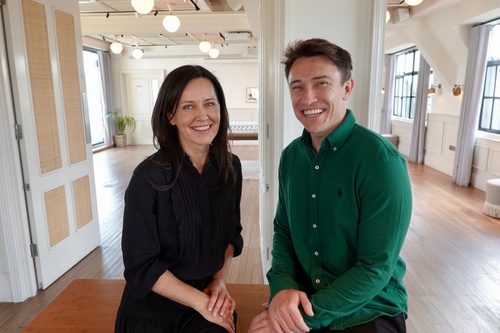 18 June 2019: Swoop, a FinTech solution that supports SMEs to access funding, has been awarded GBP 5 million (Euro 5.6 million) by the UK's Banking Competition Remedies (BCR) – an independent body working on behalf of Royal Bank of Scotland (RBS). BCR aims to ensure RBS is continually promoting competition within banking, and fair access for SMEs to the banking services market, with funds becoming available when an alternative body can better deliver this goal.

Founded by Andrea Reynolds and Ciaran Burke in 2018, Swoop harnesses the power of technology to champion itself as a 'one-stop, money shop', acting as a virtual CFO for SMEs and supporting them through the funding, saving and financial advice landscapes.

The award will support Swoop to continue its mission of increasing access and opportunity for SMEs across the UK, Ireland, and further afield. To be awarded the GBP 5 million fund, Swoop completed a bid, outlining how its product offering supports SMEs in a way that traditional banks do not. Swoop's successful bid outlined its commitments to increased competition and to SMEs, with some of these commitments including:

• A commitment to supplement any award with its own capital investment. Swoop has closed over GBP 1.5m in funding from public organisations such as NESTA and Enterprise Ireland, as well as private investors from the UK, Ireland, and Asia, since its launch just over twelve months ago.

• Swoop also committed to further invest in its proprietary, cloud-based technology and API enabled platform to deliver a sophisticated all-in-one SME finance platform by Q2 of 2020, leading to increased demand and access to funding for SMEs. The new technology, which will be created collaboratively by Swoop and SME tech partners, will include, amongst other features, a fully integrated marketplace of lenders, grant agencies, equity investors and finance product providers, and a mobile, on-the-go product for users.

• At present, Swoop boasts over 1,000 funding providers on its active database. Swoop has committed to onboarding 540,000 SMEs, approximately 15% of the business current account market.

• Swoop will continue to work with all UK banks and CASS to deliver an end-to-end automated process for business current account opening to remove the hassle from switching. It also commits to helping SMEs reduce overdrafts, unsecured loan rates and bank fees. Swoop's virtual CFO will be continuously scanning the market for better rates and service, and will automate switching for individual or all financial products.

• Swoop commits to reducing the funding disparity between London and the rest of the UK, particularly for equity finance.

• Internally, Swoop commits to building a culture of diversity and inclusion as it grows its workforce by 50 across the UK and Ireland. As is stands, Swoop has a 49:51 gender workforce, led by a female CEO.

CEO and co-founder of Swoop, Andrea Reynolds said: "Our successful bid for this GBP 5 million Capability and Innovation Fund from Banking Competitions Remedies will enable Swoop to fast forward the execution of its vision and strengthen our position to support more SMEs sooner.

"SMEs are a hugely important part of all economies. The effective provision of finance and banking services to these businesses is crucial for boosting economic performance. Over recent years, we have seen a significant growth in alternative finance, challenger banks, and a burgeoning investor base coupled with government grant and tax relief schemes, but this expanding supply of finance requires intelligent and timely delivery.

"Swoop serves as a virtual CFO connecting SMEs to the best solutions for their business needs. The future of SME banking is about more than one FinTech, one bank or one source of finance. It is about delivering independent curation of the right service and the right type and blend of finance, for every SME, at the right time.

Co-founder of Swoop, Ciaran Burke said: "We have found that the administrative burden of applications and the confusion that goes along with this are some of the most challenging barriers for SMEs to overcome when it comes to applying for funding, or when it comes to making changes to their businesses.

"Our unique matching algorithm seamlessly connects SMEs to suitable and viable options. The funding award will allow us to help those who we at Swoop care most about - those at the heart of business communities across economies such as sole traders, micro, small and medium businesses. We make it easy for them to understand their financial position, their spending habits and subsequently easily access loans, grants, investment, savings and services bespoke to their needs."

For more on Swoop's successes and its journey to date visit swoopfunding.com or @swoopfunding on social media.

ENDS

For interview requests and more information:
Charlotte Forsberg|Head of Marketing |
charlotte@swoopfunding.com
+44 7918 941 669


NOTES TO EDITORS

About BCR

Banking Competition Remedies Limited (BCR) has been established to implement the Alternative Remedies Package of measures agreed between the UK Government and the European Commission.
BCR is independent from RBS and the UK Government. It is governed by an independent Board of Directors.
The primary responsibilities of BCR are to:
• Provide information to applicants and other interested parties in respect of the Capability and Innovation Fund and Incentivised Switching Scheme
• Manage and disburse the Capability and Innovation Fund to Eligible Bodies
• Administer dowry payments to Eligible Bodies and oversee the delivery of the Incentivised Switching Scheme (including RBS's delivery of its obligations in connection with the Incentivised Switching Scheme)
• Monitor compliance by Eligible Bodies with the terms of the agreements governing the use of funds
• Reporting publicly on the Alternative Remedies Package (including how funding has been applied)

About BCR's Capability and Innovation Fund

The purpose of the Capability and Innovation Fund is to encourage eligible bodies to:
1. develop and improve their capability to compete with RBS in the provision of banking services to SMEs; and
2. develop and improve the financial products and services which are available to SMEs.
The Capability and Innovation Fund will be administered by BCR and comprises a total of GBP 425 million which is divided into four pools. These funds are held in trust at the Bank of England. 

About Swoop's founders

Founder and CEO Andrea Reynolds has over 15 years of fundraising and business development experience for SMEs. She was educated at UCD and started her working career at KPMG before she went on to become the accelerator advisor for McClaren F1 and MIT spin-offs, and is a non-executive director of Berkshire Hathaway European Insurance.

Co-founder and COO Ciaran Burke graduated from Trinity College in 2010 and began his career at KPMG Sydney where he found a passion in growing businesses and building communities around them which led him to start the professional creative network Hiive.co.uk building it to over 150,000 members and 4,000 businesses.