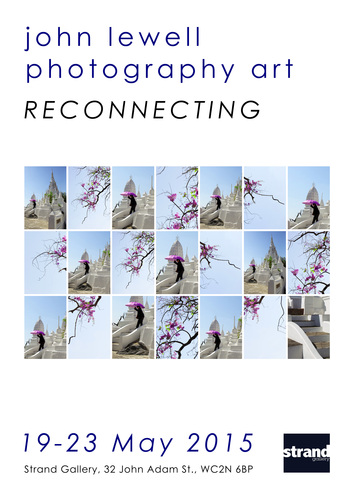 "john lewell|RECONNECTING" at The Strand Gallery, 19-23 May, 2015

Artist/photographer/author John Lewell will be showing over 50 new works at The Strand Gallery, 19-23 May, 2015. The exhibition will be a rare opportunity to see full-size prints of these pictures which are otherwise only viewable online at greatly reduced resolution.

John Lewell says: "I'm calling it 'Reconnecting' because I'm trying to renew the connection between art and photography, bringing back some of photography's unique characteristics like spontaneity and the decisive moment."

"A lot of the major artists who use photography tend to aim for objectivity and what the critics call 'presence'. But in this endeavour I think they've thrown out some of photography's better qualities. I think I've found a way of reinstating them, hopefully without falling into the trap of the literalness of straight photography."

Based on street photography originated by the...
Read full release