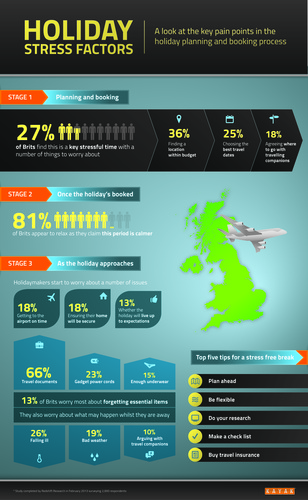 Holiday stress factor: Over a quarter of Brits find holiday planning a headache
Not packing enough underwear a major worry for almost a fifth of British women

LONDON, 21st March 2013: The lead up to a holiday should be an exciting time, but for over a quarter (27 per cent) of Brits the planning, booking and preparation is a source of great stress. It presents a catalogue of concerns that range from the more serious, such as finding somewhere that is within budget (36 per cent), to the more practical, such as packing enough pairs of knickers (17 per cent of women), according to a study released today.

The study, commissioned by travel comparison site KAYAK.co.uk, examines which elements of the holiday booking process Brits find the most taxing. It also reveals that young 18-25 year old females from London are most at risk of suffering from the holiday stress factor, whilst older males (66 plus) from the East of England are the most chilled out....
Read full release