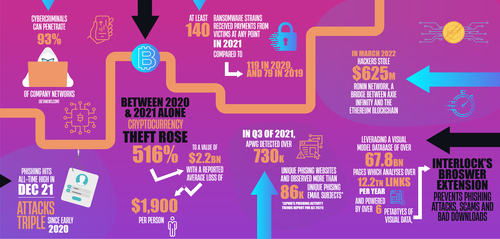 INTERLOCK INTRODUCES A NEW TYPE OF CYBERSECURITY TO TACKLE THE SURGE IN NFT AND CRYPTO SCAMS

• Smarter and safer solution addresses huge increase of crypto and NFT theft and scams
• Detects and protects from impersonation sites and malicious links in real time using Visual AI
• Users rewarded for sharing anonymized browsing threats

LONDON – 13 April 2022 – Interlock, a next-generation cybersecurity company, today introduces its blockchain-based security solution set to change the face of cybersecurity. The new technology has been created to address the surge of cryptocurrency and NFT threats that have risen sharply in recent times. Between 2020 and 2021 alone, cryptocurrency theft rose 516% to a value of $3.2 billion, with a reported average loss of $1,900 per person.

The speed at which today's technology is moving has meant that the security and testing normally in place have not had time to adapt. As the adoption of...
Read full release