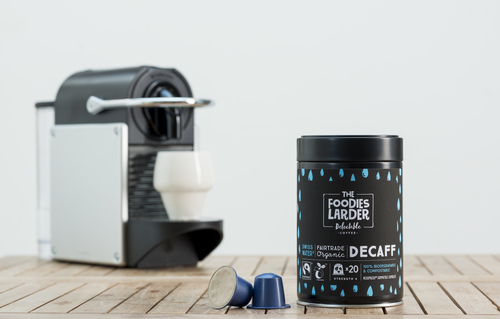 A caffeine detox used to mean mugs of insipid instant decaff coffee made from the poorest quality beans.

However, there's good news for coffee lovers enduring a New Year caffeine detox with the launch of the UK's first biodegradable and compostable Swiss Water Decaff capsules for Nespresso machines.

> Cornstarch capsules are filled with organic & Fairtrade speciality Arabica coffee.

> Unlike 80% of decaff coffees that use chemicals to extract caffeine from the bean, the Swiss Water® decaffeination process uses spring water and temperature to produce a 100% chemical-free decaff coffee that is 99.9% caffeine free.

> Corn starch capsules can be thrown into standard rubbish bins or council food waste collection bins and will completely disintegrate within 6 months, or can be composted at home. This is in stark contrast to aluminium and plastic Nespresso capsules, which take up to 150 and 500 years to breakdown in landfill,...
Read full release