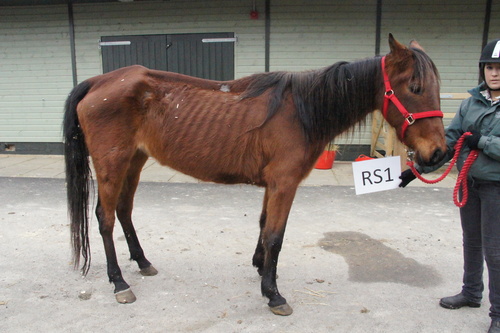 Polly is the sole survivor of the three emaciated horses found abandoned in Chalfont St. Peter, Buckinghamshire in February. With a body condition of 0.5 Polly was near death and the most emaciated horse ever seen at the Horse Trust, worse even than the survivors of Spindles Farm.

Polly was found by the RSPCA on 28th February with two other mares and we appealed to the public for information about horses that had been micro chipped and showed signs of having previously being cared for, clearly more victims of the national equine crisis.

One mare was so weak that she had collapsed. There was nothing that could be done for her and she was put to sleep at the scene. Polly and Penny were brought to The Horse Trust needing urgent care. Even with round the clock monitoring Penny's condition continued to deteriorate and, sadly Penny survived little more than a week before the vet took the decision to put her to sleep to avoid her suffering.

...
Read full release