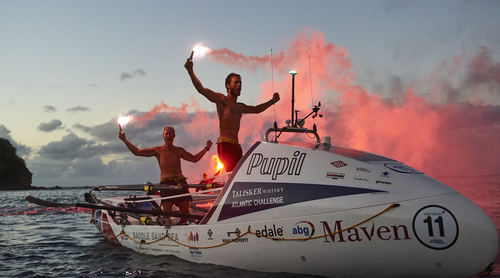 Seamus Crawford and Paddy Montgomery stepped out of their 7 metres by 2 metres boat in English Harbour, Antigua in the early hours of Monday 22nd January having completed the gruelling 3,000 mile Talisker Whisky Atlantic Challenge in 38 days and 22 hours and 31 minutes. They came in 13th from a field of 26 and 3rd in the pairs. 4 boats retired from the race.

They were greeted by their family and friends, after tackling 40ft waves, capsizing, being followed by sharks and enduring the pain of 2 hours on 2 hours off continuous rowing for 38 days.

No one has ever before completed 3 extreme challenges like this – a 2933 mile cycle 'Race across Europe' in 12 days. The legendary Marathon Des Sables across the Sahara (equivalent to 6 marathons) and now the Talisker Whisky Challenge 3000 mile Atlantic row. Paddy and Seamus have done it in 3 consecutive years!

Talking about their life-changing experience Seamus said: "It's difficult to describe the...
Read full release