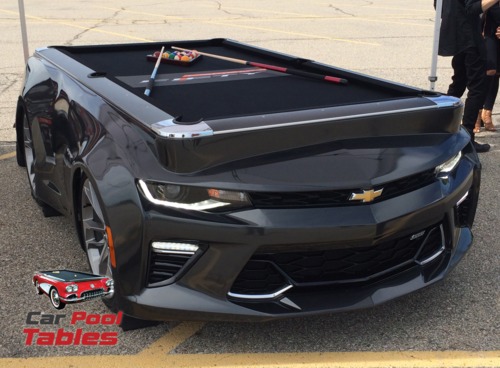 To celebrate the unveiling of the 50th anniversary Chevrolet Camaro, General Motors have commissioned and unveiled a pool table equivalent, created by Tampa Bay businessman, Tony Utegaard.

The 2017 Camaro SS 50th Anniversary Edition Pool Table worth close to 16,000 USD, was revealed at GM's official 50th Anniversary Camaro Celebration, at their plant in Lansing, MI. The table is 127" long - bumper to nose, 72" wide, and 35" high, weighing in at 1000 lbs. The project took almost six-months to design and complete, in partnership with GM.

Co-Founder of Car Pool Tables, Tony Utegaard, said: "It was a real honor to complete this piece for General Motors, working with top secret designs ahead of the public unveiling in Lansing."

Molded directly from a real 2017 Camaro, the table features working lights, authentic rims tires, trims, emblems, and grills, with a 4' x 8' slate playing top. The special production is the only Camaro pool table...
Read full release