Modern Slavery Act Update: Only 8.7% of organisations in scope meet minimum compliance criteria with their Modern Slavery Statements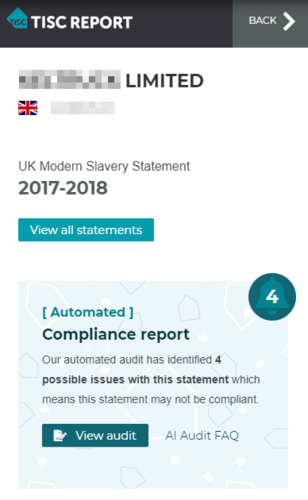 TISCreport (Transparency In Supply Chains Report) can now not only identify the organisations with no locatable Modern Slavery statements (currently holding steady at 26.7%), but can also now automatically assess the compliance of the Modern Slavery Statement itself using Artificial Intelligence (AI) technologies they have developed.

The TISCreport AI found that only 8.7%* of companies in scope meet minimum compliance criteria being measured. Better practice statements, where companies meet statutory guidance criteria as set by the Home Office, are currently at 6.3%.

However the figures are changing rapidly. Jaya Chakrabarti MBE, CEO of TISCreport, reports "Since we sent out system alerts, a significant number of our members have updated their statements to bring them within compliance and are continuing to do so. We've also managed to raise awareness of the Home Office statutory guidance [1] and are pleased to report that a number of our members have told us that they intend to comply with them too."

The beauty of using AI for auditing statements is that the basic criteria can be identified without requiring human resource. This helps humans doing due diligence to identify the suppliers that need more support in meeting the compliance criteria without having to spend time assessing every statement. This doesn't remove the need for human expertise. It enables more focus on assessing quality (impact) rather than just quantitative (tickbox) compliance; the perfect human-machine partnership.

On system accuracy Stuart Gallemore, CTO of TISCreport, reports "Our algorithm is now running at 98% accuracy on located statements and we're working on ensuring that the 2% uncertainty is diagnosed as accurately as possible."

This begs the question: Is the use of AI the way forward for assessing non-financial compliance? TISCreport certainly believes it is. To put the challenge into context, there are currently over 12000 in-scope companies with modern slavery statements in need of assessment. TISCreport estimates that it would require a minimum of 250 man-days for a single sweep through the data set with 100% efficiency (which of course, is a theoretical maximum). The TISCreport AI can cut that time down to a matter of hours per sweep.

Now that companies are affordably accessing this technology for their own statements, the rate of increase in quality of compliance is accelerating. Jaya explains:
"We've rolled our AI audit system out for our contributing members in scope for Section 54 and are already seeing the quality of modern slavery statements rise. All of our members want to comply but many need guidance on how, dovetailing with advice provided by their legal advisors. Additionally, TISCreport.org donates a significant proportion of annual membership fees to the anti-slavery charity Unseen and the Modern Slavery Helpline, as part of our commitment to creating circular economies so it's a triple win."

It is impossible to say if AI or similar technology will be used by the Home Office for their own up-coming audit of statement compliance. However savvy companies are already using the TISCreport AI to maximise their chances of avoiding being placed on the threatened name and shame list [3]. Completely independently, TISCreport will be publishing a list of AI-assessed best-practice modern slavery statements in coming weeks in an effort to inspire best practice across all sectors. This is all still very new but the early indicators are that, aided by TISCreport innovation, the race to the top has begun in earnest at last...

FURTHER INFORMATION & NOTES

About TISCreport

TISCreport is the world's largest Transparency in Supply Chains register, built to UK Government Digital Service specifications using UK Government digital infrastructure.

TISCreport tracks compliance and non-compliance with non-financial regulations and legislation of all companies/groups with a known global turnover above £36M and their supply chains. The TISCreport dynamic data set is continually being updated, and there are just under 1000 UK public bodies tracking supply chains in the system. It is a certified open data register, free to join, enabling an in-depth drill down of data against shared supply chains via a private, secure dashboard. Uniquely, beyond the UK, TISCreport interlocks intelligently with related global legislations focussing on using supply chain transparency to tackle modern slavery, labour exploitation and corruption. Additional transparency data subscriptions available are listed here: https://tiscreport.org/features/tisc-data-sets

As a B-Corp [2] social enterprise, TISCreport funds itself through membership fees from organisations able to afford the £200 annual membership fee, transparency data subscriptions and services. 50% of the annual membership fee minus admin fees is donated by TISCreport to the award-winning anti-slavery charity Unseen, which runs the UK Modern Slavery Helpline.

Contact Information
For further information or to arrange an interview please contact Jaya Chakrabarti at TISCreport.org.
Tel: +44 (0) 117 9273113
email: press@tiscreport.org

[1] https://www.gov.uk/government/publications/transparency-in-s...
[2] https://bcorporation.uk/
[3] https://www.cips.org/en-GB/supply-management/news/2019/may/g...