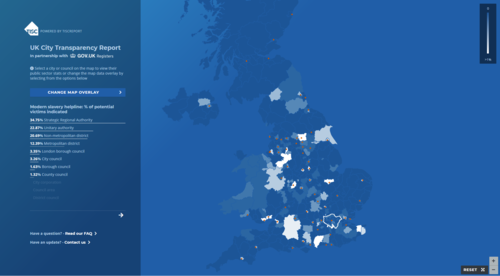 TISCreport's live UK transparency Map now shows slavery and labour exploitation hotspots across the UK using real information derived from the Modern Slavery Helpline. This is overlaid on the cities, counties, districts and boroughs supplier compliance data.
https://tiscreport.org/public-sector/uk-transparency-report/.

At the beginning of Anti-Slavery Month (October 2018) TISCreport published the UK's first live Transparency Map online. This easy to use tool showcased the potential power that has until recently lain dormant within the UK's local government procurement budgets. In short their system allowed all public bodies to quickly check their suppliers in terms of compliance with the modern slavery act, thus to be fully informed when choosing...
Read full release