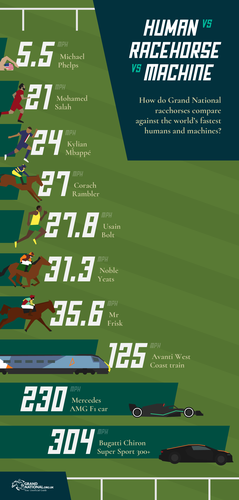 GRAND NATIONAL 2023 SPEED COMPARISON - HUMAN VS. RACEHORSE VS. MACHINE
Usain Bolt vs. Corach Rambler vs. Bugatti Chiron

- Grand National 2023 favourite Corach Rambler's average speed is 4 mph slower than 2022 winner Noble Yeats

- If Usain Bolt were a racehorse, he would be the 9th fastest-ever Grand National winner, placing him above Grittar & Silver Birch

- The fastest-ever recorded sports car (The Bugatti Chiron Super Sport 300+) is 9 times faster than the fastest-recorded Grand National Horse (Mr Frisk)

- 2022 Grand National winner and 2023 favourite 'Noble Yeats' is 1.5 times faster than top Liverpool footballer Mo Salah

05.04.2023, London, Grandnational.org.uk take a look at the Grand National's fastest-winning race horses. Find out how the 2023 Grand National favourites compare against some of the world's most famous and speediest athletes and vehicles. When it comes to human vs racehorse vs...
Read full release