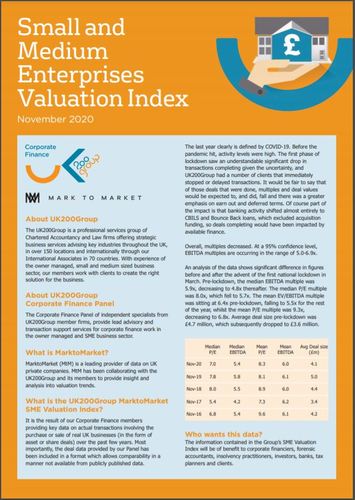 Laura Wiltshire
UK200Group GaPs Admin Assistant

Due to COVID-19, it was touch and go as to whether the UK200Group could gather sufficient deals to produce its annual Small and Medium Enterprises (SME) Valuation Index. However, due to the resilience of our contributing member firms, we are delighted to publish our index as normal in the format of our usual flyer.

The flyer sets out the not unexpected impact of COVID-19 on SME deal activity and valuations. The first phase of lockdown saw an understandable significant drop in transactions completing given the uncertainty, and UK200Group had a number of clients that immediately stopped or delayed transactions. It would be fair to say that of those deals that were done, multiples and deal values would be expected to, and did, fall and there was a greater emphasis on earn out and deferred terms. Of course, part of the impact is that banking activity shifted almost entirely to CBILS and Bounce Back...
Read full release