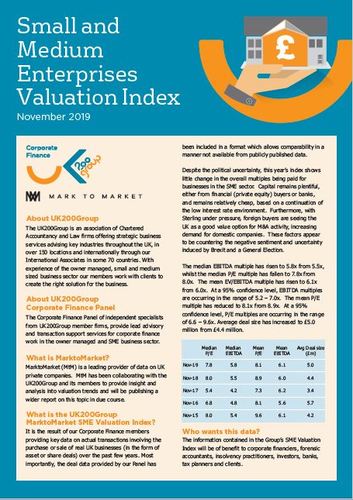 Laura Wiltshire
UK200Group GaPs Admin Assistant

On Thursday 28th November the UK200Group published their latest figures for the Small and Medium Enterprises (SME) Valuation Index. This year's index shows little change in the overall multiples being paid for businesses in the SME sector. Capital remains plentiful, with an average deal value of £5 million in 2019, either from financial (private equity) buyers or banks, and remains relatively cheap, based on a continuation of the low interest rate environment. Furthermore, with the British sterling under pressure, foreign buyers are seeing the UK as a good value option for Mergers & Acquisitions (M&A) activity, increasing demand for domestic companies.

The UK200Group's SME Valuation Index shows the Median and Mean of the Price to Earnings Ratio (P/E) and EBITDA and the average deal sizes of SMEs to the nearest million. The Index has proved invaluable to SMEs, and to corporate financiers, forensic...
Read full release