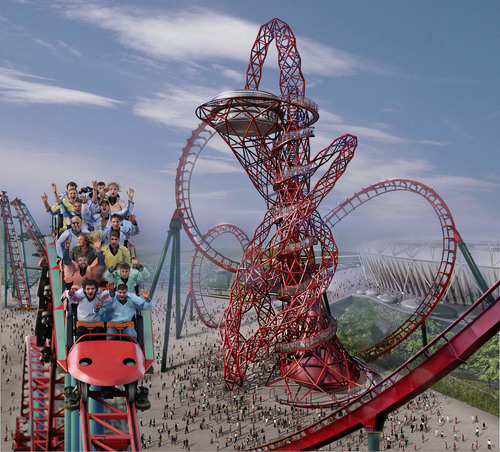 Birmingham, UK -- 22 July 2011 - With the London Olympics opening in a year from Wednesday (27 July 2011), one question has been puzzling visionary artist, David A Hardy. What can be done to make the 22.7 million pound artwork, the ArcelorMittal Orbit, more than just an abstract piece of art? As can be seen from his illustration, he suggests that it could form the heart of a state of the art roller-coaster ride.

"The twists and turns in the sculpture reminded me of the organic form of a roller-coaster," explained David. "This would be a perfect fusion of art and entertainment. At 114.5 metres high, the sculpture is taller than the Statue of Liberty in New York so not only would you get a great ride, but you would also have fantastic views of London and the entire Olympic Park at the same time."

David is one of the world's leading visionary artists having collaborated with the likes of Patrick Moore and Arthur C Clarke to create visions of the...
Read full release