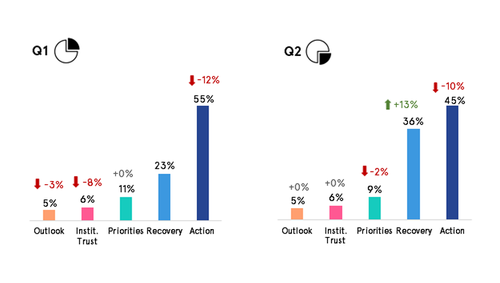 PR and Communications leaders are increasingly focused on recovery in Q2 according to the Vuelio Barometer which analyses themes dominating the public posts of 897 executives. The study is based on publicly available data from Twitter from Q4 2019 through to Q2 2020.

The Barometer shows that 'Recovery', which includes the terms 'return to work', 'learn from' and 'get back to' among others, has become more important since the start of lockdown and most recently accounts for nearly two in five (36%) of all online discussions among PR and Communications Leaders. This was up from being the main topic of less than a quarter (23%) of conversations in Q1.

Social media debate among PR and Communications Leaders about 'Action', including the terms 'we've decided', 'start' and 'we need', in contrast has decreased over the same period. In Q4...
Read full release