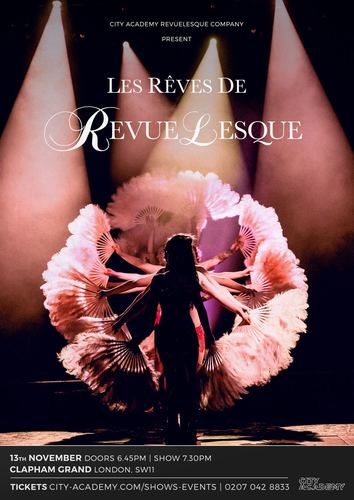 RevueLesque, City Academy's premier burlesque company returns to Clapham Grand this November with a sizzling new show!

Blending confident cabaret with charismatic can-can, the cast of 23 inspired women will take you on a tantalizing journey from traditional to modern burlesque.

City Academy deliver performing arts and creative classes for adults across London. They run two burlesque companies and the women across both troupes are professional executives by day and theatrical showgirls by night! The upcoming performance will represent the premier burlesque company's fourth showcase, having also been a huge hit at The Hippodrome in the West End!

Burlesque continues to experience a real renaissance. And we've seen an exceptional focus on female freedom of expression this year as a result of the 'Me Too movement.' However, most burlesque brands on the market, particularly in London, offer run-of-the-mill acts that centre around the...
Read full release