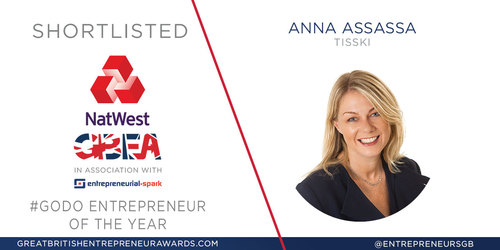 It has just been announced that North West/Yorkshire & Humber based Tisski Ltd has been shortlisted for the 2017 NatWest Great British Entrepreneur Awards in the #GoDo Entrepreneur of the Year Award category.

Anna Assassa, CEO of Tisski http://tisski.com/ beat off some tough competition in order to make the regional shortlist, with over 1000 businesses entering the awards nationally across the wide range of categories.

Tisski is a technology company specialising in Microsoft Dynamics. Not your usual business for an unqualified, Essex girl but Anna knows her stuff and prides herself on being a wife of a surgeon, stepmother of two teenage girls, lover of her 3 dogs and CEO of Tisski.

Tisski is above average when it comes to female employees too with 38% of her trusted workforce being women compared to the 26%...
Read full release