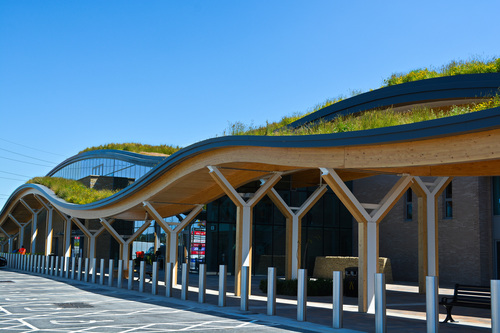 Following its opening in March of this year, Leeds Skelton Lake Services is seamlessly blending into its lakeside environment thanks to a 'living roof' supplied by UK wildflower experts, Wildflower Turf Ltd.

Located on the M1, the opening of the £64M Motorway Service Area (MSA) was timely, providing an essential service to hauliers and key workers at the height of the COVID-19 pandemic. Sympathetically designed, the main building comprises a 100-bed Hotel and Food Court topped by an impressive and eye-catching wildflower meadow.

Of particular importance during the design phase of this striking feature was a requirement to ensure that the wildflower meadow would conform to planning regulations while also assisting the building to blend into the existing landscape.

The undulating roof is soil-less, and the green roof consists of a bespoke blend of 41 native UK wildflower species. Wildflower Turf Ltd also supplied their own substrate in...
Read full release