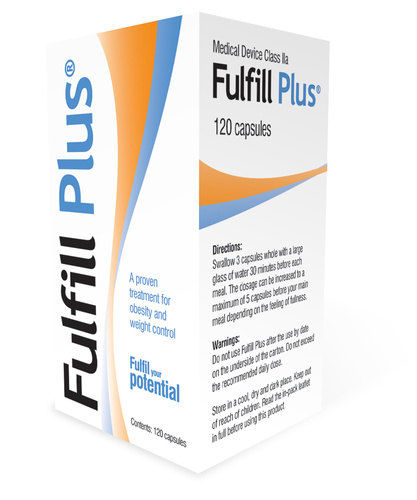 Fulfill Plus is based on a natural ingredient that has been proven and licensed as a medical device to combat obesity. It is a harmless substance that creates the feeling of being "full" so reducing the desire for excessive portions of food.

Fulfill Plus is taken as a capsule, one hour before meals with a litre of water. Once in the body, it swells to take up around 50% of the stomach volume and so leaves the patient feeling fuller. Over time, the body learns to eat less food. This is similar to the effect of a Gastric Band, but without invasive surgery: instead of physically restricting the stomach from the outside, Fulfill Plus fills it up on the inside.

The active ingredients are not digested or absorbed and have the added benefit of reducing LDL cholesterol, while at the same time promoting "good" HDL cholesterol. Because it is derived from plants, Fulfill Plus is suitable for vegetarians.

Fulfill Plus has been licensed in numerous...
Read full release