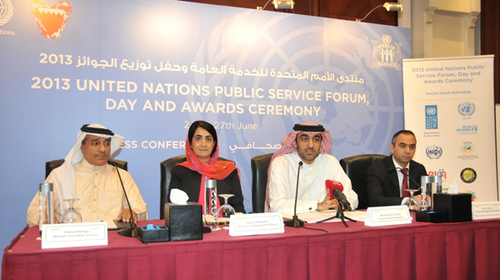 In a press conference held yesterday, Mr. Mohammed Ali Al Qaed, eGovernment Authority CEO, Chairman of the 2013 United Nations Public Services Forum's Organizing Committee, announced latest details of the forum held under the patronage of His Majesty the King Hamad Bin Isa Al-Khalifa, the King of Bahrain, in coordination with Bahrain's eGovernment Authority and the United Nations Department of Economic and Social Affairs (UNDESA) will kick off on the 24th of June and will continue for 4 days.

Al Qaed stated that they've already succeeded in exceeding the set objectives and the number of registered delegates has so far reached 700 people, 550 of them are from outside the Kingdom of Bahrain, representing 97 countries.

Over 100 key international leaders, deputy prime ministers, minsters, CEOs will personally be attending this high-level event. He added that it is a great success for Bahrain to host such international forum for the first time in the Middle...
Read full release