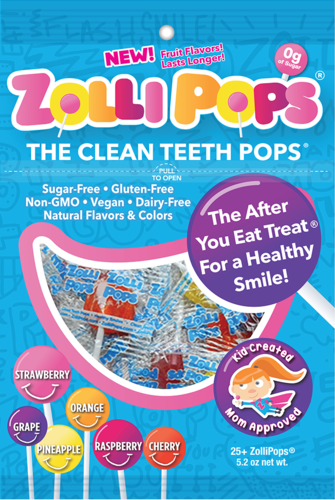 Many parents will make a New Year's resolution to eat healthier and reduce the amount of sugar in their children's diet. Jonathan Raymond, sales manager for Zollipops UK announced that keeping that promise just became easier with an all natural, sugar free lollipop that actually helps prevent tooth decay.

"Zollipops are the 'After you eat Treat.' They're sugar free, gluten free, non-GMO, 100% Natural lollipops, and what's more, they are good for your teeth," said Raymond. "They reduce the risk of tooth decay and future development of cavities."

The innovative healthy treats are available in six fruit flavors that children love in the form of Zollipops, Zolli Drops and Zaffi Taffy. They're also appropriate for vegan, kosher and dairy-free diets. All the candies are fat-free and have been lauded by dentists and hygienists around the world for their benefits. Parents no longer need to...
Read full release