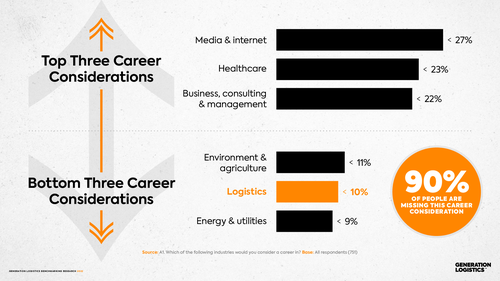 In short supply: As the logistics industry faces a huge recruitment crisis, new campaign launches to future-proof its workforce


Without logistics, the world stops: 93% of logistics businesses are facing a critical recruitment crisis.
New research reveals that 90% of people have NEVER considered a career in logistics.
In the midst of a cost of living crisis, a starting salary in the logistics sector is up to 67% more than the minimum wage for 18-20 year olds, and up to 20% higher than those 21 years and older.
Over two thirds of people rate a 'good work-life balance' as their most important consideration for a career (69%), closely followed by 'high rates of pay' (66%), both of which are offered in the logistics industry.
Launch of industry and government-backed campaign, Generation Logistics, works to plug the skills gap as it combats common misconceptions around the industry, to highlight the diversity of opportunity and career...
Read full release