Time to End Siloed Thinking and Actions to Tackle Sustainability Across Data Centers and IT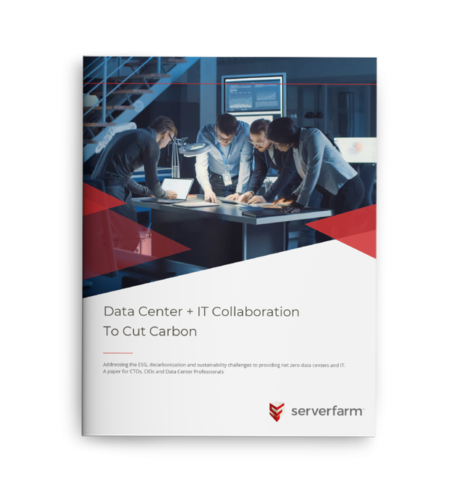 CIOs, CTOs, and Data Center Leaders need to collaborate to decarbonize digital infrastructure across the full IT and data center stack

LOS ANGELES – June 7, 2023 – Serverfarm LLC, the leading innovator in colocation data center development, operation, and cloud-based infrastructure management, is to issue a white paper calling for an end to the siloed thinking that is preventing real sustainability actions in IT and data centers.
"It is time for CIO, CTO and data center leader stakeholders to address head on the ESG, decarbonization and sustainability challenges we face today if we are to deliver true net zero data centers and IT," said Arun Shenoy, CMO and SVP of Sales EMEA at Serverfarm.
The paper: Data Center + IT Collaboration to Cut Carbon provides an Applications to Data Centers perspective for CIOs, CTOs, CSOs and Data Center Leaders by providing a call to action for greater cooperation.
It provides a number of checklists for IT / data center engineers and offers 'a buildings to software' perspective on digital sustainability.
The paper also covers Greener Data Strategies for Physical Infrastructure including Existing Buildings; New Builds Versus Modernization; Greening Space; Power and Cooling; Green Software Development and Applications; Server and Processor Architectures; Cloud Tools; along with Measurement, Monitoring, and Management Strategies.
"At every layer of the stack there are sustainability gains to be made. Down at the processor level, CIOs prioritize performance per watt, whereas data center engineers focus on the buildings and infrastructure. These data centers use thousands of MWhs per year, but are often underusing their power capacity," said Shenoy.
The paper will be available for free download here and from the Serverfarm web site under the resources tab starting June 13th, 2023 at 12.00 A.M. PT.
Serverfarm acquires existing facilities for modernization through sustainable infrastructure upgrades and green energy transition. The company has been growing rapidly across Europe, the Middle East, the U.S. and Canada and has firmly established its InCommand Services as the world leader in Data Center Management as a Service (DMaaS) with more than 750 locations now under management across more than 45 countries. Serverfarm is a member of the Climate Neutral Data Center Pact.

To receive a Press copy of the report, journalists please contact ambrose.mcnevin@techmarketingcontent.com

For more information, please email: media@sfrdc.com

###

About Serverfarm
Serverfarm is an award-winning global data center developer and operator. With InCommand DMaaS, the company's data center management as a service platform, Serverfarm maximizes enterprise customers' infrastructure efficiencies, providing end-to-end visibility and control over their IT and data center environments. As a result, Serverfarm customers and their teams gain agility, reliability, and efficiencies, allowing them to focus on innovation. For more information, visit www.serverfarmllc.com.
This press release was distributed by ResponseSource Press Release Wire on behalf of Tech Marketing Content Ltd in the following categories: Business & Finance, Manufacturing, Engineering & Energy, Computing & Telecoms, for more information visit https://pressreleasewire.responsesource.com/about.