Algarve's 'Formula 1' resort helps investors beat the market and gain pole position!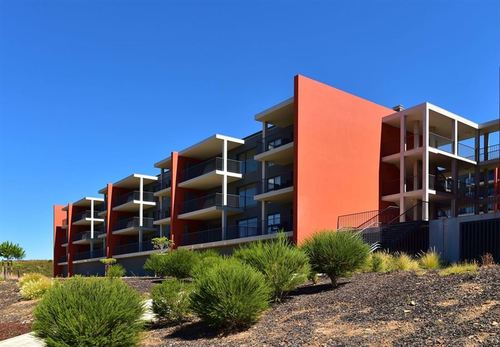 Ideal Homes Portugal

A one-of-a-kind location combined with attractive rentals and below-market-value prices make a new apartment complex beside Portugal's Formula 1 racetrack one of the most attractive investment opportunities in the Algarve today, said exclusive promoter of the project Ideal Homes Portugal.

The key-ready Algarve Race Apartments offer a rare opportunity for investors to secure a fully managed, income-producing property at one of the lowest entry points for modern homes in Portugal.

A deposit of just €46,500 would be enough to secure finance for a one-bedroom apartment at this exciting complex, which is situated a few hundred metres from Portugal's famous Autódromo Internacional do Algarve (AIA) racetrack near Portimão. Whether you're an investor, petrolhead or just keen to get an affordable foothold in the Algarve property market, here are the key things that make this an exceptional investment:

- Below market value. Acquiring the Algarve Race Apartments complex, previously a bank repossession, means the vendor can offer units at around 30 per cent below market value. Furnished to a high standard with air con and double glazing, these turnkey apartments are already in full use and producing rental income. Discounted for a limited time only, one-bedroom units start at €155,000, two-bedroom at €189,000 and three-bedroom at €215,000. This includes parking, storage and use of the complex's swimming pool.

"Buying at such a low entry price means there is huge potential for capital appreciation," said Chris White, chairman of Ideal Homes Portugal. "After five years, we predict that a €215,000 unit will be worth somewhere between €300,000-€350,000. After ten years, it's not unrealistic to expect what you pay today to have doubled. These types of deals don't come along often."

- Easy finance and no extra costs. Thanks to its proven rental audience, leveraging an investment at Algarve Race Apartments could make perfect sense. Ideal Homes Portugal's mortgage team have access to competitive products with foreign investors required to put down just 30 per cent as a deposit, giving them access to mortgage rates of around 3.5 per cent with a five-year term or longer. A €3,000 holding deposit is needed to reserve an apartment.

- Five-star hotel status. Algarve Race Apartments operates alongside the five-star Algarve Race Resort hotel, situated next door. This means the complex has a permit to operate as a tourist business and owners do not need individual AL licences for short-term rentals. Residents of the apartments have access to the hotel's facilities, which include a restaurant and two bars, large terrace, spa and gym, indoor and outdoor pools, games room and Kids Club, as well as smart corporate facilities.

- Rentals and personal use – it's a win-win! Owners at Algarve Race Apartments will be able to obtain a good rental yield and have their property fully managed by the on-site operator for the whole year. "Next year, there are already four months of bookings for the entire development, which is great for the rental yield," said Chris White at Ideal Homes Portugal. Equally though, owners have the flexibility to use their apartment for personal use whenever they wish.

- World-class racing. The AIA racetrack is a leading venue on the international racing circuit and approved by both the FIA and FIM to host competitions of the highest levels. A regular venue for the MotoGP championship, in 2021 and 2022 it also hosted the Portuguese F1 Grand Prix. Its busy calendar includes races in the World Endurance Championship, International GT series and FIM Superbike World Championship. Around these high-profile events, it remains a very busy venue - the track is booked for corporate days, used for testing by racing teams, while amateurs can book sessions at the driving school. Even Jeremy Clarkson and his Grand Tour team have raced supercars there for the Amazon Prime series! All of this underpins a constant demand for accommodation at the site.

- Coast, clubhouse and countryside close-by. The Algarve Race Apartments sit in a rural area called Mexilhoeira Grande, with the pretty Monchique Mountains as a backdrop. Despite this scenic setting, which provides easy access for walks, horse-riding, mountain-biking, the beaches and bright lights of coastal Algarve are still very close. The charming marina cities of Lagos and Portimão are both around 15-20 minutes away, the nearest beaches at Meia Praia and Praia da Rocha are around 25 minutes and equally accessible are golf clubs at Penina, Alamos, Boavista and Morgado.

For more information on the Algarve Race Apartments or to find out about other investment options in the Algarve, contact: Ideal Homes Portugal, www.idealhomesportugal.com, 0800 133 7644, info@idealhomesportugal.com
This press release was distributed by ResponseSource Press Release Wire on behalf of Broadbridge Property & Media in the following categories: Motoring, Business & Finance, Construction & Property, for more information visit https://pressreleasewire.responsesource.com/about.