New premium memory club and day care service launches for members with Alzheimer's disease and dementia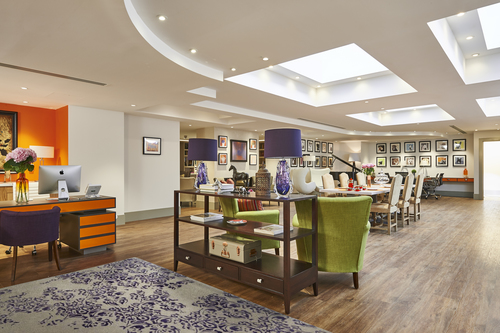 'My vision for Chelsea Court Place is to deliver excellence in personalised service and curated dementia care in a happy, supportive environment,
Chelsea Court Place, the UK's first premium memory care residence with 24 hour nursing and memory day club, purpose-built and designed for residents with Alzheimer's disease and dementia, opens in London.

Launched by Innovative Aged Care, Chelsea Court Place is a self-contained luxury community, located on the corner of the prestigious Kings Road and Sydney Street in Chelsea. The premium residence emulates the modern, elegant design of a private member's club and caters to the unique needs of memory care residents. The club fuses cutting edge dementia-friendly interior design with state of the art technology, delivering an innovative sanctuary designed to support and elongate the quality of life for its members. Most importantly Chelsea Court Place prides itself on the exceptional, bespoke curated 24 hour nursing care, practiced by a team of leading dementia-trained professionals.

The prime location enables local Chelsea and Kensington resident to remain part of the community, as well as offering easy access for visiting family and day care members.

Chelsea Court Place Chairman, Laurence Geller CBE has applied his extensive experience and passion as a multi-national hotelier into the framework of this new boutique care home, intending to raise the standards and approach to dementia care. Geller's philanthropy in both dementia research and education, combined with his personal experience of the disease have both inspired and driven this project.

RESIDENCE FEATURES
Chelsea Court Place offers the convenience, exceptional service and luxury of a 5 star hotel, in a home away from home environment. The boutique residence boasts 15 premium ensuite apartments, which can be personally customised with the help of the residence's interior designer. The site also features a 48 cover restaurant and private dining room, available for residents and their families to use for dinner parties and celebrations. Additional features include a 24 hour café, cinema and library, spa and beauty salon, sensory and treatment room and indoor garden which will provide a retreat for socialisation and stimulation. The Residence also has the use of the beautiful gardens of St Luke's church next door on Sydney Street.


Chelsea Court Place has been designed to the highest standard, complying with the needs of memory care patients at every level in order to promote independence for as long as possible. Happiness and well-being are at the core of the home's values and incorporated into the foundations of the bright and airy residence.

BESPOKE CARE
The care team comprises highly experienced and compassionate dementia-trained staff, handpicked by industry-leading General Manager Dr Christine Bunce and Managing Director James Cook. All needs of the residents will be accommodated with bespoke 24 hour nursing care and concierge service.

The kitchen will be led by an award-winning duo; Head Chef, Matt Dodge (Runner Up NACC Care Chef of the Year 2015) and Sous Chef, Alex Morte (NACC Care Chef of the Year 2016), will create an abundance of delicious seasonal menus from locally sourced suppliers, tailored to the taste-buds of the residents. There will be no set meal times (or bed times) so the kitchen will be open and serving day and night.

CEO Guy Geller comments, 'We have created a beautiful home and concept that doesn't restrict the freedom of our residents. There will be ample staff to ensure members are able to go for a walk outside and enjoy the beautiful surroundings as well as sleep, eat and bathe at their leisure. We encourage our residents to retain their independence and mobility and our devoted team will be on hand to support them, every step of the way.'

TECHNOLOGY AND INNOVATION
The latest technology is used to enhance the care undertaken by the team. Person Centred Software is used to track resident progress and provide precise information about the individual throughout the day. Dementia Care Mapping, a very specialised, innovative observational, technique will be employed by the team. This takes the perspective of the individual, giving a complete understanding of the specific care needs (and reasoning) as seen through the eyes of the individual.

Chelsea Court Place will champion research innovation with its partnership with the University of West London, spearheading new attitudes to bespoke dementia care, tailored medication and individual analysis. Innovative Aged Care Ltd is passionate about investing in all areas of research to help find a cure for dementia and Alzheimer's disease, the only causes of death that are still on the rise.

MENTAL AND PHYSICAL STIMULATION
Chelsea Court Place is passionate about improving the quality of life of its residents and places a strong importance on social, physical and mental stimulation, all of which have been proven to enhance the mental health and emotional wellbeing of people with memory problems. Pet therapy, cooking, craft sessions, gardening, music and innovative daily exercise including chair Zumba and yoga are just some of the activities on the daily programme.

Entertainers will host regular happy hours, quizzes, games and music nights where relatives, friends and staff will join together for a fun, social experience with their loved ones.

Members can luxuriate in pampering, with a menu of holistic and complimentary treatments, spa therapies and beauty and grooming services on offer at the deluxe hydrotherapy room. They will also enjoy regular social outings to events including the opera, ballet, tennis, golf and local attractions, all tailored to encompass the interests and cognitive abilities of the members.

MEMORY CLUB AND DAY CARE
Chelsea Court Place introduces to the UK a brand new innovation in dementia care: The Memory Club and Day Care. This unique concept offers the outstanding care and support from the Chelsea Court Place team to individuals with memory care needs, on a daily or short term basis.

Memory Club members will enjoy all the the activities, excursions and social interaction on offer as well as the luxurious environment, whilst their family and carers have some well-deserved respite. The service also offers advice and training to carers to help support them in delivering the best care.

Chairman Laurence Geller CBE states, 'My vision for Chelsea Court Place is to deliver excellence in personalised service and curated dementia care in a happy, supportive environment, and to enrich the lives of our residents and day club members. Through my foundation, I will continue to work tirelessly to fund research that will ultimately eradicate dementia, a pandemic that is afflicting the lives of hundreds of millions of people worldwide.'

James Cook, Managing Director of Chelsea Court Place adds, 'We are delighted to open Chelsea Court Place and to offer a world class, luxurious home to residents and memory club members. Every level of attention to detail has been taken to deliver a safe, tranquil and nurturing environment that is supportive to the unique needs of our residents. We are passionate about pioneering the latest research, techniques and technology in our approach to care.'

Christine Bunce, General Manager of Chelsea Court Place adds, 'I am thrilled to be leading the highly experienced, dedicated team and to be part of Innovative Aged Care's first care home launch. We have a myriad of expertise and resources to provide an exceptional level of personal care that truly makes a difference to residents and their families, making Chelsea Court Place a home for life.'

THE LOCATION
The location was chosen for Innovative Aged Care's first luxury memory care home, due to the prediction that Kensington & Chelsea will have the highest growth in new dementia diagnosis in London over the next 20 years. Currently the borough has the smallest number of beds for dementia residents, with a ratio of only 0.2 dementia beds per 100.

With 64,400 people living with a dementia diagnosis in London and 17,000 new cases being diagnosed each year, Innovative Aged Care has ambitious plans to continue the expansion of care homes in London and to service the growing demand of specialist memory care.

ABOUT INNOVATIVE AGED CARE
Innovative Aged Care was founded by Laurence Geller CBE, Guy Geller and James Cook in 2015 with the vision of delivering bespoke curated dementia-focused, premium care homes and day services. With a combined of experience of over 100 years in elderly care, healthcare and hospitality, Innovative Aged Care is passionate about helping to shape the future of memory care services.

www.innovative-agedcare.com

For further information, interviews and images, please contact:
Alina Wallace: p: 07946 189 672
e: alina@alinawallacecommunications.co.uk
This press release was distributed by ResponseSource Press Release Wire on behalf of Innovative Aged Care in the following categories: Health, Business & Finance, Medical & Pharmaceutical, for more information visit https://pressreleasewire.responsesource.com/about.