Garbage Guzzler Trial Success at Oxford University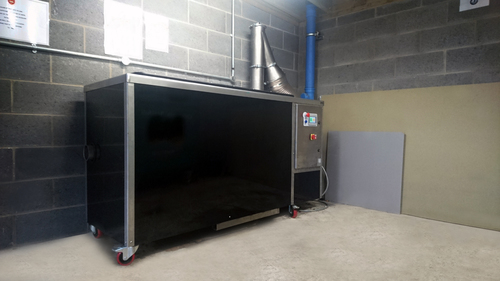 "It's the easiest machine to use in the world. You open the top, put in the food and hit the button to set it going. It couldn't be simpler.
An Oxford college has chosen PKL's Garbage Guzzler to reduce its food waste and carbon footprint.

Mansfield College produces more than 500 meals a day for its staff, students and visitors. Its kitchen produces food for breakfasts, lunches and dinners in its main hall and for other more intimate dining areas, including a new cafe.

In early 2017, the College took a Garbage Guzzler on trial, to see if it could help reduce the amount of avoidable food waste that was currently being removed from site.

The Garbage Guzzler is an onsite aerobic food waste digester, which is capable of reducing food waste by up to 90%.

Each week the College was producing two wheelie bins full of food waste and this was identified as an area that could be improved upon, under their green initiative.

For Lee Browning, kitchen manager at Mansfield College, the Garbage Guzzler seemed like a great opportunity to reduce the amount of food waste being collected from site.

Mansfield took delivery of a GG400 in April 2017 for a three month trial. The college cancelled its food waste collections and have been delighted by the way the guzzler has performed. Located in the bin store area, staff described the machine as 'easy' to use. The trial has been so successful the college has decided to install a Garbage Guzzler permanently on site.

Using bacteria to help speed up the digestion process, the Garbage Guzzler has been so efficient, that the machine has rarely needed to be emptied in three months! When they do empty it, the college are looking forward to using the remains of their food as nitrate-rich soil improver around the college grounds.

The college staff also noticed there were less vermin problems with the sealed Garbage Guzzler and even that flies seemed to hate the machine!

"It's been brilliant," said Lee. " "It's the easiest machine to use in the world. You open the top, put in the food and hit the button to set it going. It couldn't be simpler. "

"The digestate looks a bit like old coffee grounds. The bacteria have just reduced the food so quickly. What has been brilliant is that we have less vermin around the bin store and fewer flies, as they don't seem to like the Garbage Guzzler. All in all, it's been brilliant."

PKL Chief Executive Lee Vines said: "We know that the Garbage Guzzler can make a big difference to the carbon footprint of organisations, whilst also producing useful compost or biofuel AND reducing costs. We are delighted that Mansfield College have been so pleased with their machine."

To find out more about the Garbage Guzzler, contact PKL on 01242 663000 or check out: Garbage Guzzler

Ends

442 Words

To see a video about this hire, click here:

https://youtu.be/4A_hYIR4K3Q

NOTES FOR EDITORS

PKL Company Overview

PKL Group is the UK's leading supplier of modular commercial kitchens, serving a wide range of both public and private sector markets. With hundreds of temporary kitchens and 10,000 items of catering equipment available to hire, the company supports clients during refurbishments, emergencies and events.

PKL also offers a number of permanent modular kitchen solutions including high-spec commercial kitchen buildings which are delivered to site as pre-built modules, ready for quick installation. The company's KitchenPod and Food Cube products have won various industry awards for innovation and have proven popular particularly in the education and leisure sectors.

In addition, PKL offers catering estate management solutions, as well as specialising in major event kitchen complexes such as those used to feed athletes at events such as the Olympic Games. The company's international division also delivers a wide range of specialist kitchen solutions to sites all over the world, from African mining
camps to Antarctic research stations.

Established in 1988, PKL's head office is located in Bishops Cleeve, Cheltenham. The company currently employs around 90 staff and has successfully completed over 10,000 temporary kitchen hires worldwide, as well as over 200 permanent kitchen installations.

If you have any queries about this press release, or about PKL and its projects, please contact PR and Marketing Exec Phil Scoble on 01242 663125 or email pscoble@pkl.co.uk.
This press release was distributed by ResponseSource Press Release Wire on behalf of PKL Ltd in the following categories: Environment & Nature, Food & Drink, Education & Human Resources, Public Sector, Third Sector & Legal, for more information visit https://pressreleasewire.responsesource.com/about.