THE COFFEE COCKTAIL REVOLUTION HAS LANDED, AND IT'S HERE TO STAY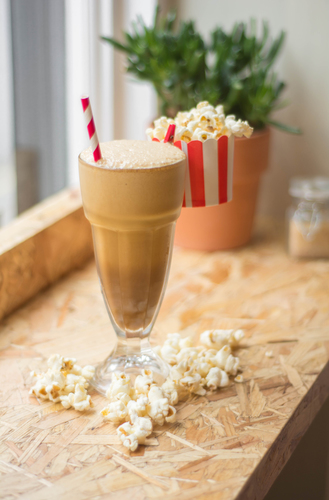 Brand new research from The Future Laboratory reveals new driving forces behind the trend and four new 'tribes' set to shake up the cocktail world

LONDON – 21 September – The coffee cocktail renaissance is set to explode with 'a perfect synergy of coffee and cocktail cultures' already underway, according to new research from one of the world's most renowned futures consultancies, The Future Laboratory. Driven by millennials around the world, the trend has gained momentum thanks to increasingly globalised palates and influential 'social seekers' looking for the next big thing.

Discerning drinkers have enjoyed coffee in cocktails ever since the Espresso Martini burst on to the scene in the 1980s, but it is only recently that the astronomical growth of the trend has really taken place. 'Waves of development in coffee have been echoed in innovations in coffee cocktails', says The Future Laboratory, spurred by the value placed by millennials on a 'sense of connoisseurship' along with 'a constant search for the new and the next'.

Tia Maria, the UK's favourite coffee liqueur, has been paving the way with the launch of the Tia Maria + Coffee Project and a selection of innovative new serves. Recipes crafted by renowned bartenders and expert baristas have united coffee culture and cocktail hour, offering coffee connoisseurs the opportunity to sip on cocktails unlike anything they've ever tasted before.

Experts agree that this is just the beginning, with the trend set to boom even further in the decade ahead. 'A new global coffee cocktail culture will break out in our society', says The Future Laboratory, celebrated by millions of consumers with 'increasingly sophisticated palates and expectations'. The research has identified four new tribes of cocktail drinkers whose desires will redefine the drinks world and drive leading mixologists and baristas to create new cocktails like never seen before.

THE SENSORIALISTS
The first tribe set to make an impact is the next wave Instagram-mad generation who will be looking for 'visually appealing drinks' that work in 'an era of advanced social media sharing', says The Future Laboratory. Always thinking ahead to their next post, they'll be looking for an attractive treat that's not only easy on the eye but creates buzz and excitement too. This tribe is likely to enjoy a serve such as the Tia Iced Popcorn Frappe – a deliciously indulgent mix of Tia Maria, fresh espresso, milk and popcorn syrup, all spectacularly topped with real popcorn – an Instagrammer's delight.

THE OPTIMISERS
The second tribe will be looking to find the perfect balance of work and play, opting for 'Healthonism' – 'coffee cocktails that combine fun with an ability to stop at the top of your game'. Maximising the benefits from their treats will be top of their agenda, so they'll appreciate the energising boost from coffee as a cocktail ingredient. They're likely to opt for something light like the Tia + Tonic – a twist on the espresso & tonic, the latest coffee trend that's 'a really elegant way of serving really tasty seasonal coffee', according to David Jameson from Union Hand Roasted Coffee, as interviewed by The Future Laboratory for the research.

THE EXPERIMENTAL CONNOISSEURS
The third tribe will want to push the boundaries of taste, and are 'on the constant hunt for new coffee and cocktail flavours and combinations'. Their desire for experimentation might lead them to order a cocktail containing two contrasting flavour profiles, such as mint and coffee, as found in the Tia Mint Frappe or Tia Mint Americano – an unexpected fusion of two distinct tastes with delicious results.

THE TRUTH SEEKERS
The final tribe will ask for drinks that allow the true quality and origin of the ingredients to shine through. 'Understanding the provenance and taste profile of every coffee type means they can pair it with the right type and amount of spirit and mixer to create the perfect cocktail', says The Future Laboratory. They'll be likely to go for a simple classic such as the Tia Espresso Martini, a perfectly balanced serve which has stayed true to its original recipe from the 1980s – but will take great interest in finding out the specific blend of espresso used for the drink, as well as knowing that Tia Maria itself features 100% Arabica coffee beans.

Claudio Giuliano, Global Brand Manager – Tia Maria, says; 'The findings from the research support what we were already observing, which is that people's love for coffee, and coffee cocktails, is at an all-time high. Tia Maria is certainly happy to be leading the charge and we're urging all coffee lovers out there to unite and join us.'

'Coffee and cocktail culture will explode over the next decade', concludes The Future Laboratory, 'bringing with it a new wave of multisensory experiences, as well as innovative recipes and techniques, enabled by major technological breakthroughs.'

Tia Maria


- [ends] -

For more information please contact tiacoffeeproject@mercieca.co.uk / 020 7485 0100


Notes to editors:

About Tia Maria

The legend of TIA MARIA dates back to the mid-17th century, when a beautiful young Spanish aristocrat fled the turmoil colonial war brought to the island of Jamaica. Her maid saved one family treasure, a small jewellery box with black pearl earrings and an ancient manuscript with the recipe for a mysterious liqueur. The recipe was named after the courageous woman: TIA MARIA. It was then rediscovered in the 1940s by Dr. Kenneth Leigh Evans, who began to produce and market it. Tia Maria is still made to the original Caribbean recipe by ILLVA SARONNO and distributed in over 60 countries.

Tia Maria is a coffee liqueur that combines 100% Arabica finest coffee with a hint of vanilla and Jamaican Rum. Completely harmonic and of solid structure and body, Tia Maria presents an optimal aromatic intensity. The strong aroma of coffee emanates immediately and opens itself with light notes of chocolate and pipe tobacco before then softening with hints of caramelised cane sugar and vanilla. Tia Maria is ideal for coffee based cocktails.

About ILLVA Saronno

ILLVA SARONNO is known for DISARONNO, the world's favourite Italian liqueur. Disaronno is distributed in over 160 countries and represents the "Made in Italy" image and taste worldwide. The Illva Saronno portfolio includes other leading brands such as: TIA MARIA, ARTIC, ISOLABELLA, ZUCCA, AURUM. Illva Saronno stands a cut above the rest for its qualitative excellence, ability to anticipate new trends and its expertise in interpreting consumer tastes.
This press release was distributed by ResponseSource Press Release Wire on behalf of Mercieca Ltd in the following categories: Men's Interest, Leisure & Hobbies, Home & Garden, Women's Interest & Beauty, Food & Drink, for more information visit https://pressreleasewire.responsesource.com/about.