Models Get Naked To Expose Pet Food Industry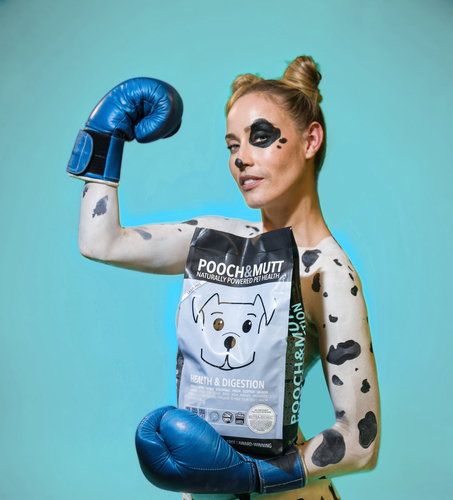 FOR IMMEDIATE RELEASE

Pooch & Mutt, the makers of "Health Food for Dogs with Nothing to hide", have enlisted the help of four models body-painted as dogs, a top music producer and an award-winning film director to highlight some of the problems with the pet food industry.

Whilst naked models body-painted as dogs might not be the obvious way to talk about pet health and nutrition, there is a need to do something different when 87% of the £34m* spent on pet food advertising in the UK is controlled by the confectionery giants Mars and Nestle.

What is there to expose? As Pooch & Mutt point out at http://www.poochandmutt.com/nothingtohide/ there are 3 key factors that they think public should know about:

1) The majority of pet food brands, even when they may look small and independent, are owned by Mars and Nestle. Pooch & Mutt's website provides an infographic to show who owns who. Pooch & Mutt also questions if these companies are best-trusted with the health of the nation's pets.

2) Big pet food companies can change what goes in the food, dependent on what is cheapest at the time, without informing customers or even changing the packaging. A link from Pooch & Mutt's website shows the potential consequences of this for the health of our pets.

3) Some pet foods that say 'chicken' or 'beef' on the front of the packs could contain as little as 1% chicken or beef. There have been other campaigns showing how big companies use the regulations to only include 4%, Pooch & Mutt takes this a step further to show how the worst offenders only use 1%.

Pooch & Mutt founder, Guy Blaskey points out, "For years the independent pet sector has been making and selling higher quality foods, but have only managed to reach a small percentage of the population. The mass market is dominated by Mars and Nestle brands. We think that the nation's dogs deserve better and we have to think creatively to get this message out there. The growth in the sales of our 'Health food for dogs' has been astronomical and has just received an extra boost with a listing of our foods in Pets at Home. With the increased availability through pets at home we thought it was a good time to do something different to get the message across. I am pretty sure everyone can agree that's what we have done. Both the track and the video came out even better than expected. A huge thanks goes to Ben and Nadia from the production company HOUND London, as well as the music producer Billy, the makeup artists and all the models who did an amazing job on what we knew was a weird brief."

Each of the models spent over 1 and a half hours in makeup to get the look right

The film can be seen at
http://www.poochandmutt.com/nothingtohide/
and
https://www.facebook.com/poochandmutt/

-- ENDS --
483 words

* 2015 figures from Mintel

For more information contact:
lucy@poochandmutt.com
020 30 111 567

Hi Res imagery can be downloaded from
https://drive.google.com/file/d/0Bxb_XuULj2TnbEZZWGw4UEZReUU...
This press release was distributed by ResponseSource Press Release Wire on behalf of Pooch & Mutt in the following categories: Health, Food & Drink, Media & Marketing, for more information visit https://pressreleasewire.responsesource.com/about.