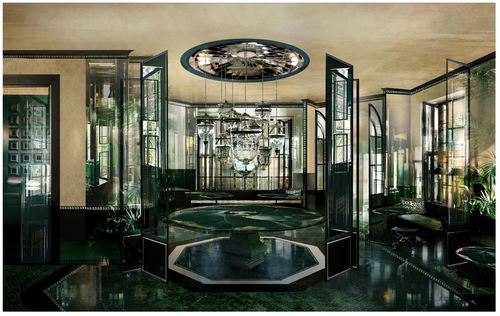 Paris will soon see a completely new hotel opening, exuding an aura of sensual elegance. Designed around all the tones of dark green, it's created by Anouska Hempel, and lies in the heart of the 6th arrondissement, where a part of rue Washington takes on the aura of a Moroccan oasis.

Having worked in Istanbul for the last 5 years, on a palace on the Bosphorus, Anouska Hempel has taken the touches of her Arabic and Lebanese connections into a special mix of magical seduction. Lighting is soft and subdued, picking up the seductive atmosphere of the interiors.

Dark green velvet in eglomisé mirrors dominate the scene with capricious touches of Turkish-influenced cuisine, and everything lives in harmony with the glorious dark green Moroccan Walilli herringbone tiles from Fez. Hammam bowls are used to serve a menu of exotic dishes onto the marble-topped tables. Soufflés and truffles abound and stunningly dressed staff dance in attendance, creating seamless...
Read full release