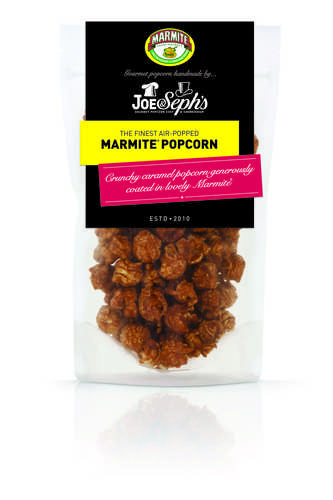 JOE & SEPH'S LAUNCH THE FIRST OFFICIAL MARMITE POPCORN!

Love it or hate it, you simply have to try it!

Award winning popcorn brand Joe & Seph's is today excited to launch its latest flavour sensation in partnership with one of the nation's most iconic brands, Marmite, creating the first official Marmite Popcorn!

Love it or hate it, Marmite is one of Britain's most iconic products and it now coats Joe & Seph's air-popped corn in their newest flavour, Marmite Popcorn; smooth sweet caramel generously glazed with the famously savoury Marmite making a brilliant sweet & savoury combination.

Fans of the brand have been desperate to combine their love of the spread with the increasing popularity of popcorn for some time. Known for its daring flavours including Gin and Tonic, Cheese on Toast and Madras Curry with Black Onion Seed and Lime, Joe & Seph's were only too happy to take on the challenge! In just one mouthful of this new...
Read full release