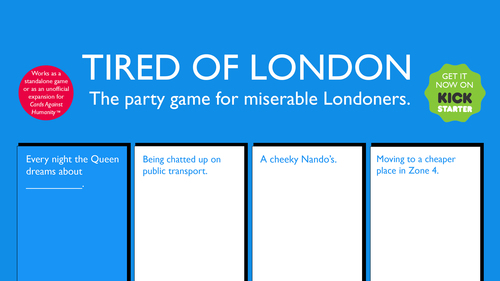 For immediate release.

"The party game for miserable Londoners."

WATCH PROMO VIDEO

A Cards Against Humanity-type game created just for Londoners launches today on Kickstarter. Tired of London is really simple – one player picks a 'Question Card'. All the other players anonymously submit one of their ten 'Answer Cards'. The funniest one wins.

Taking its name from the Samuel Johnson quote, "When a man is tired of London, he is tired of life", the game is packed full of London in-jokes, making it a great way to alienate your friends who live outside of the M25. It can be played as a standalone game or as an unofficial expansion pack for games such as Cards Against Humanity or Apples to Apples...
Read full release